Cecil Howell —
Design, Art, and Research



Cecil Howell is a designer, whose practice ranges from mapping, to product design, to landscape architecture. Her work is an exploration of place: how it is formed, how we are entangled with it, and how we can design it. Growing up in the woods of New York, her love of land is rooted in childhood walks through the forest, observing a successive ecosystem regenerating over remnant stone walls and farmlands.

Cecil approaches her work through studying how spaces are formed over time through the dynamic interactions of geological, cultural, and ecological forces. The start of any project begins with questions which eventually leads towards examining spatial data, scientific research, journalism, and historical narratives. Through research, model making, writing, and drawing she is interested in creating narratives that tell the complex stories of a place; expanding our perspective and dialogue. This work is the point of departure for her landscape projects and the basis for much of her visual art.
After 9 years of working for multiple award-winning firms, including Hargreaves, Future Green, and Margie Ruddick Landscape, Cecil created her own studio and collaborative: Object + Field, in order to expand her practice beyond the built environment and into artistic explorations of the human imagination.

cecil@cecilhowell.com


Education
University of California, Berkeley
Master of Landscape Architecture, 2010
Kenyon College, Bachelor of Arts, 2005, major in Biology and Environmental Science

Work Experience
Founder, Object + Field, 2019
Associate, Margie Ruddick Landscape, 2016 to 2018
Associate, Future Green Studio 2012-2015
Designer, Hargreaves Associates 2010-2012
Intern, Terreform, 2009
Horticultural Intern, Battery Garden Conservancy, 2008




Exhibitions, Residencies, and Publications

2021
Exhibition, Flathead Biological Research Station, a group exhibition at the Bigfork Art and Cultural Center, Bigfork, MT
Exhibition, The Shape of Time, a solo exhbition at the 100 W Corsicana Bookstore and Gallery, Corsicana, TX
Finalist for Rome Prize in Landscape Architecture
Essay, An Atlas Adrift, published in Spring 2021 edition of Orion Magazine
Artist Residency, Blue Mountain Lake Center, New York
Artist Residency, Oak Spring Garden, Virginia
Artist Residency, 100 W Corsicana
Artist Residency, Fire Island National Seashore
Graphic narrative, in collaboration with researcher group on the Impacts of Mining on Salmonoid Watersheds, to be published in 2021

2020
Panelist, Art's Affinity with Nature, at the Broto Conference
Presenting Artist for MacDowell Annual Benefit
Essay, Water as Cake, published in Burnaway Magazine
Artist Residency, The Barbara and Thomas Putnam Fellow at MacDowell, New Hampshire

2019
Exhibition, Recycled and Reused, a group exhibition at Site Gallery, New York
Exhibition, Translating Place, a group exhibition at the University of Montana
Artist Residency, Western Montana Creative Initiatives Artist-in-Residence, Montana
Artist Residency, Tongass National Forest Voices of the Wilderness, Alaska
Artist Residency, Isle Royale National Park, Michigan

2011 - 2018
Exhibition, Tides of October, a group exhibition which I co-curated, on the Gowanus Canal, New York
Exhibition, Chaumont International Garden Festival, France (in collaboration with Future Green Studio)
Exhibition, 365 Days of Print, a group exhibition at DUMBO Arts Festival, New York
Exhibition, Senescence, a group exhibition at I-Park, Connecticut
Exhibition, Specific Environments: Landscape as Metaphor, a group exhibition at the Lincoln Center Gallery, Colorado
Exhibition, Mapworks -- the Map as Art, a group exhibition at the Sebastopol Center for the Arts, California

Landscape Architecture Projects

2019 - 2021
Tencent Corporate Campus, conceptual design through construction of a 12-acre campus in Beijing, China. In collaboration with Maya Lin and Edwina von Gal.
Pinehurst Farm, masterplan for a 400-acre farm in Springfield Center, New York.

2015 - 2018
Resilient by Design, conceptual plan for Climate Change in Vallejo, California. Work completed while employed with Margie Ruddick Landscape.
Detroit Learning Lab, conceptual and schematic design for school in Detroit, Michigan. Work completed while employed with Margie Ruddick Landscape.
1199 Ludlow, conceptual design through construction of a new development in Philadelphia, Pennsylvania. Work completed while employed with Margie Ruddick Landscape.
Olana Summerhouse, conceptual design of a new structure at Olana. The work was featured in the group exhibition Follies, Function, and Form: Imagining Olana's Summerhouse. Work completed while employed with Margie Ruddick Landscape.

2013 - 2015
La Central Housing Development, conceptual design through design development for a 5-building development and park in the Bronx, New York. Work completed while employed with Future Green Studio.
Half Street, conceptual design of a shared street in Washington, D.C. Work completed while employed with Future Green Studio.
Empire Stores, Conceptual design through design development of a 50,000 SF rooftop park in Brooklyn, New York. Work completed while employed with Future Green Studio.

2011 - 2013
New Orleans Redevelopment Study, masterplan for facade renovation strategy in New Orleans, Louisiana. Work completed while interning with Tulane City Center.
Exxon Corporate Campus, construction documentation for a 400-acre corporate campus in Texas. Work completed while employed by Hargreaves Associates.
Destination Bayfront, conceptual design for a 34-acre waterfront park in Corpus Christi, Texas. Work completed while employed by Hargreaves Associates.
Ribbon Park, conceptual design for a 30-hectare waterfront park in Tianjin, China. Work completed while employed by Hargreaves Associates.






2020.
A Biography of a River
"Beauty is the convenient and traditional name of something which art and nature share, and which gives a fairly clear sense to the idea of quality of experience and change of consciousness. I am looking out of my window in an anxious and resentful state of mind, oblivious of my surroundings, brooding perhaps on some damage done to my prestige. Then suddenly I observe a hovering kestrel. In a moment everything is altered. The brooding self with its hurt vanity has disappeared. There is nothing now but kestrel. And when I return to thinking of the other matter it seems less important. And, of course, this is something which we may also do deliberately: give attention to nature in order to clear our minds of selfish care. "
— Iris Murdoch



By Murdoch's definition, beauty is not a state of being, but rather a relationship between two objects. It is also subject to timing, revealing itself with the flap of a wing and the shift of an eye. This series, which captures a 3 mile section of the Flathead River from 1945 until 2015 (based on data collected by the Flathead Biological Research Station) explores the undulations of an untrammeled floodplain. On the ground, a floodplain landscape can be chaotic and confusing, with pockets of dense scrubby vegetation, stretches of barren river rocks, and eddies of debris. There are no scenic vistas and it is hard to take a photograph that captures the life and beauty of the space. The Everglades was the first national park to be created in order to protect a vital ecosystem, otherwise we often rely on grand vistas or distinct landforms to guide our conservation efforts. But this approach obviously has its limits: it ignores landscapes, often vital ones, that don't appeal to our cursory glance, and is, at its core, human-centric. Maybe, like the slow food movement, we need a slow beauty movement. A movement encouraging us to see more and look less, a counterpoint to the commodification of landscapes on social media. Inspired by Murdoch's thoughts on beauty as a moment in time, this series pairs the path of the river with monoprints of snow melting, the same process which feeds the Flathead River.



2002
2013
2012
2020-21.
Cartographies of Time and Movement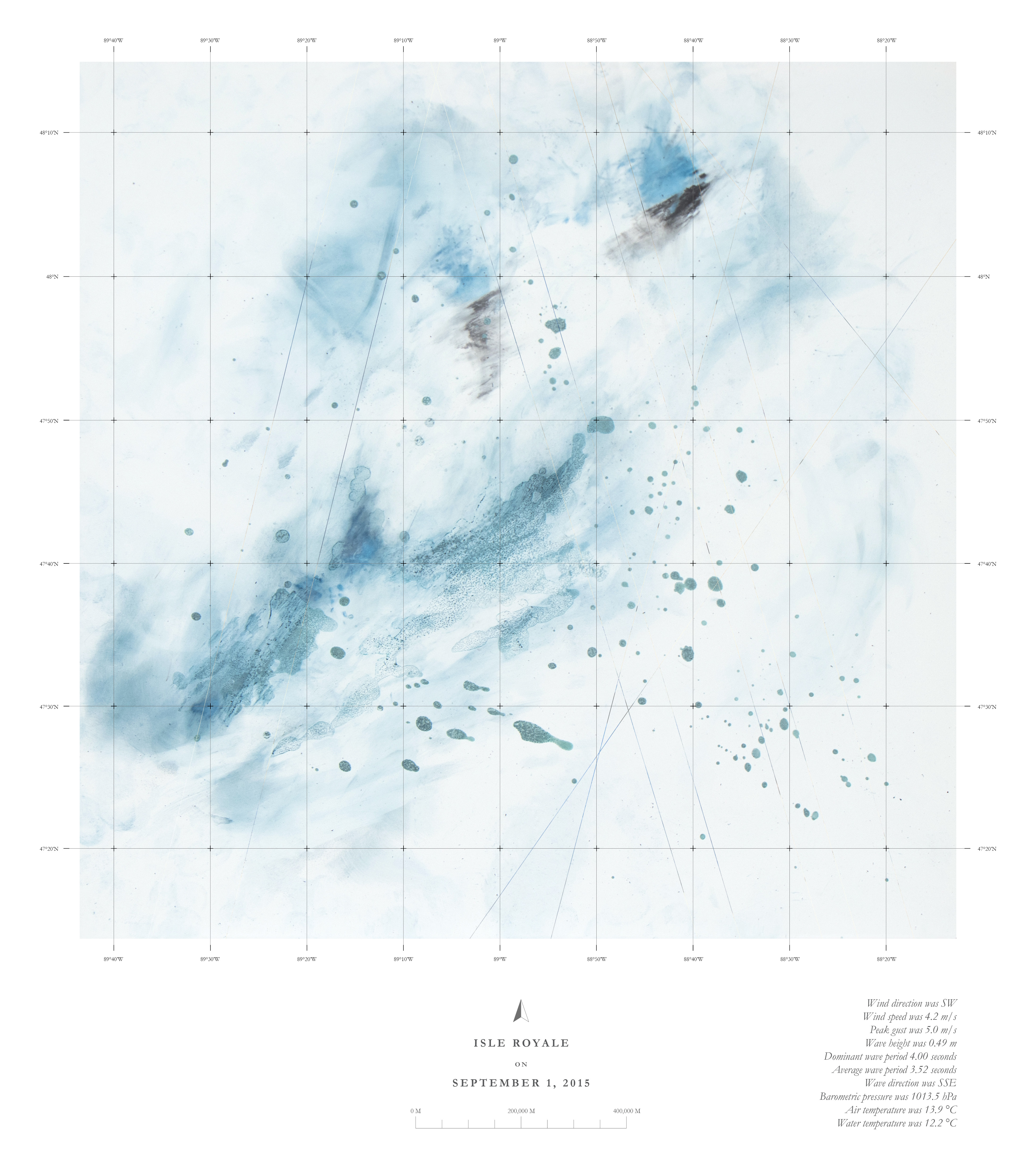 "Some say that we have reached a dead end of imaginative invention, that no poetic image, no brushstroke is possible that isn't derivative of something already done. Certainly one effect of the enclosure is a sense of limitations: there is only so much in the garden. But I interpret insistence on this as a sophisticated form of deflection. We may have enclosed ourselves, but this puts us on an interior threshold about which little is stale or familiar. Whether it's the paradox of being responsible for our own footing, the challenge of imaginatively graping the effects of enclosure, or the disappearance of landscape itself as we have known it, this is not a dead end. Rather it is a beginning, in which the human imagination is in its early days of finding itself, in which we know little, in which all is to be discovered."

Suzannah Lessard, The Absent Hand



Representing landscapes is a process of drawing ambiguities. Landscapes are infinitely old and constantly emerging, but a map represents only a moment in time. They are continuous yet fragmented by the artificial boundaries we project upon them. They are bound to the reality of their bedrock, yet our perceiving minds interpret them through a cloud of emotional and visual references. While scientific cartography can exquisitely define immediate realities, the emerging, temporal, and experiential qualities of a landscape are often best explored through the arts. This atlas exists at the confluence of these two fields, between science and the arts, between the abstract and physical landscape. Within these pages are a collection of cartographies inspired by Isle Royale National Park, a remote archipelago in Lake Superior. These maps will not help you navigate, nor will they serve as a comprehensive guide to Isle Royale, rather they are intended to help visualize a place from perspectives often not considered in traditional cartography.